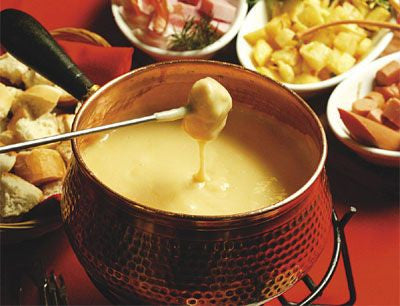 Bimi's Fondue
Fondue is the ultimate food for a chilly and dark evening at home. When the world outside is damp and grey and cold and icy.... what is more appealing than curling up inside next to the fire with a pot of rich, gooey cheese and a fresh baguette? So easy to make, fondue is the answer for a stress-free party. Invite some friends, bring out the fondue—and your house is brimming with happiness and warmth!
Cheese fondue is very simple and quick  to make, as long as you pay attention and know a few key tricks. In a nutshell:
To serve 6 people, you need at least 1 lb total of cheese (4 cups grated)

Start with Gruyere. ½ lb at least.
Next, choose 1 or 2 of your other favorite Alpine cheeses to use for the remaining ½ lb (think Challerhocker, Alpenzeller, Emmentaler, Comte.....) We are happy to guide you through the options at Bimi's.

Put on your favorite cheese-grating music, and grate all the cheese coarsely – all the cheese can be mixed together at this point.
Slice open a clove of garlic, and rub the raw cut side all over the inside of a heavy 4 qt saucepan. Throw the remaining garlic clove into your compost.
Add 1 ½ cups of dry white wine to the pot, and slowly bring it to a simmer.
Gradually add cheese to the heated wine, stirring constantly in a zigzag pattern until cheese is just melted. Be patient and take caution not to let the cheese mixture boil.
Mix 1 tablespoon of cornstarch with 2 teaspoons kirsch in a small dish to form a thin paste (lemon juice can be substituted here.... but the kirsch is really worth it!!) This keeps the fondue velvety smooth.... Add the kirsch-cornstarch mix to the melted cheese.
Continue to stir over low heat for 5-8 minutes until fondue thickens.
Carefully pour into your fondue pot, adjust heat source under pot, and serve.
Use long fondue forks to dip chunks of food into the cheese – it is a communal pot of food.
DIPPING SUGGESTIONS:

Chunks of baguette or ciabatta
Roasted potato chunks
Apple or pear slices

PAIRING SUGGESTIONS:

Dry white wine such as dry Riesling or Sancerre
German lager or Saison-style ale
Farmhouse cider
Fino Sherry
Hot Apple Cider
If you want more background trivia to impress your warm & happy friends while you enjoy your meal: fondue dates back to the 18th century in Switzerland, specifically to the Canton of Neuchatel. Capitalizing on the important Swiss sister-industries of cheese and wine, fondue was created as a simple-to-prepare meal utilizing ingredients that were found in most Swiss homes.
Our motto at Bimi's is "Camaraderie - Community - Cheese."  Fondue is kinda our mascot since it embraces all these ideas! We sell everything you need to have a fondue party of your own... come in and we'll set you up to FONDUE!